Harry Potter
I have been active in the Harry Potter fandom for many years, and have shared Harry Potter crafts and tutorials and patterns on my personal website since approximately 2002/2003 as well as many other places around the web. This page will point you to all of my HP-related patterns, tutorials, crafts and recipes.
Since 2005, I have designed well over 150 Harry Potter paper pieced patterns, as well as patterns for a number of my other favorite fandoms. You can now find all of my Harry Potter patterns, as well as those of many other talented designers, archived on Fandom In Stitches, my fandom quilting website. Each of my patterns will include my name, Jennifer Ofenstein. You can find a text list of all my Harry Potter Patterns hosted on Fandom In Stitches at the bottom of this page.
My Magical Lens
, my first Harry Potter quilt, completed in 2007. This is the quilt that started it all!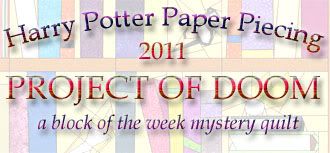 The Project of Doom was a Harry Potter Block of the Week that took place between January and August 2011. This is a comprehensive archive of all of the patterns that were posted during that time, including fabric requirements and suggested layouts.

The Project of Doom on display at Hennig House Quilts
All patterns were designed by Jennifer Ofenstein of Sewhooked and are shared for personal and non-profit use only.
This archive can also be found on Fandom In Stitches and Harry Potter Paper Piecing.
Click on any photo to enlarge. Click on "week" for pattern and "original post" for blog post.
***Approximately 3 yards needed for background fabric for this project***
Free Harry Potter Paper Pieced Pattern Inventory
The following list includes most of the Harry Potter patterns I have designed since 2005. For photos of each finished block, click on the section heading. There are many more great patterns by myself and other designers on Fandom In Stitches!
Patterns are for personal and non-profit use only.
More Awesome Harry Potter Stuff:
Stencils, recipes and party ideas on the Tutorial and More page.
Harry Potter themed crochet on the Yarn page.
You can also find many of my patterns and crafts on The Leaky Cauldron under Crafts.
Need more? Check out Harry Potter Crafts on Yahoo! Groups, a fan-run craft community for sharing HP crafts, swaps and more!
Disclaimer: I DO NOT SELL HARRY POTTER QUILTS or the patterns on this page. In 2012, a craft blog reported that I make and sell HP quilts after misquoting another article about my work. Out of respect to J.K.Rowling and the myriad of copyrights surrounding Harry Potter, I do not sell any of my Harry Potter-related patterns or quilted pieces. Thank you for respecting my decisions on this and please do not email asking me if I will make a quilt for you.
~Jennifer
"Harry Potter" is a trademark of Warner Bros. TM and © and Harry Potter Publishing Rights © J.K.R.
All other trademarks property of their respective owners.